Women in Music, Singing Recital, 20 October 2019
What a joy to be paying tribute to two incredible power women of classical music, Clara Schumann and Maria Callas!
Katerina is very happy to be performing again with terrific concert pianist Stavros Dritsas, a programme to celebrate 200 years from Clara Schumann's birth with some of her most beautiful lieder, as well as Maria Callas's life with operatic arias and piano transcriptions closely related to the repertoire performed by Callas.
The concert is organised by the Hellenic Institute of Cultural Diplomacy in Italy and will take place at Teatro Sperimentale in Ancona on Sunday 20th October at 17:00.
To read more and book your tickets, click the box below!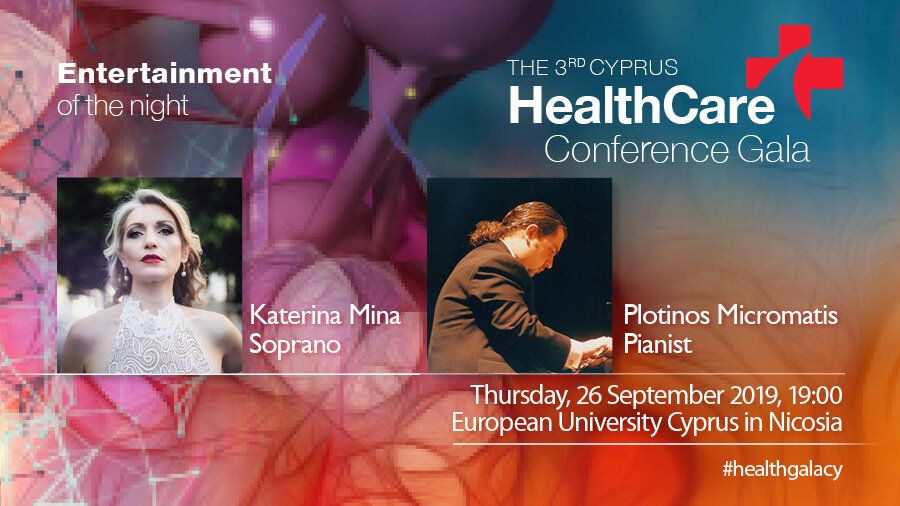 The 3rd Cyprus HealthCare Conference Gala, 26 September 2019
Katerina performs with pianist Plotinos Micromatis at the 3rd HealthCare Conference Gala at the European University in Nicosia. Organised by IMH, the event features Keynote Speaker from Belgium, Healthcare Futurist & Delight Thinker, Prof. Dr. Koen Kas.
New Opera Recordings, National Opera Studio London,
20 July 2019
Check out Katerina's latest video recordings with pianist Emily Hooker, where she performs arias from Giuseppe Verdi's operas Un Ballo in Maschera & La Forza del Destino and from Jules Massenet's opera Le Cid.
The recording took place at the National Opera Studio in London and was produced by John Naulls. Click on the link below to listen and subscribe to Katerina's YouTube Channel!
You will also find them on the Gallery Page of this website. Enjoy!!
The Golden Network, Business Workshop, 30 April 2019
Katerina is very excited to be coaching during the launch of The Golden Network's Business Coaching Sessions & Workshops, together with the Founder/CEO of The Golden Network and Entrepreneur, Victoria Salem.
The Business Networking & Communications Skills Workshop will take place at the Paris Dauphine University in London.
Katerina will be focusing on voice production and phonation, introducing specific breathing techniques and vocal exercises in relation to speech therapy, to help you present yourself in public using the natural tone of your voice, projected with certain confidence and charm.
Oxford Philharmonic Orchestra, Hellenic Centre London, 6 April 2019
Katerina will be performing with the Oxford Philharmonic Orchestra and conductor Marios Papadopoulos at the concert to celebrate The Hellenic Centre's 25th Anniversary! Katerina will perform music by C. Stylianou writen for voice and orchestra.
Interview, Gilt Magazine, April 2019
Katerina is thrilled to be featured in this fabulous Italian Magazine. Huge thanks to the Editor in Chief, Ms Clara Bacchetta, as well as the PR and Communication Managers, Ms Sara Olmo & Ms Nicole Cottone, for this great interview!
Photo by Marios Askanis
Opera review, Oxford Philharmonic Orchestra, 19 February 2019
Huge thanks to Opera Spy for this great review! «The piece was musically even more outstanding by the fabulous singing of the Greek Cypriot soprano, Katerina Mina, whose voice was always on point and soared into the rafters of the church. Hers was an outstanding performance, both vocally and emotionally» - Opera Spy
Oxford Philharmonic Orchestra, St Martin-in-the-Fields, 19 Feb 2019
Katerina is delighted to be performing with the Oxford Philharmonic Orchestra and conductor Marios Papadopoulos during the lunchtime concert representing the High Commission of Cyprus at St Martin-in-the-Fields in London.
New Album Release,
May 2018
«The disc is a terrific achievement and there is much to enjoy. Katerina Mina is clearly a voice to watch out for, and I would certainly hope to hear her live» - Planet Hugill
Katerina's new album with the RPO and conductor Grzegorz Nowak is officially released by the Orchestra's Record Label. «Angel of Fire» features operatic arias from La Forza del Destino, Andrea Chénier, Fidelio, Lohengrin, Adriana Lecouvreur, Tosca & Manon Lescaut; Barber's symphonic piece Andromache's Farewell, as well as two world-première pieces by Swiss composer, Stephan Hodel, based on Katerina's poetry.
New Single Release, January 2019
Katerina's new single «Look to the Universe» (remix version) with music by British songwriter Linda Lamon was officially released on the 8th of January 2019, in celebration of the late Professor Stephen Hawking's Birthday. This beautiful, uplifting song which Katerina had the honour to perform live at UNESCO's Headquarters in Paris to open the inaugural celebrations of the 1st International Day of Light, is available to download on all digital stores!
Annual Christmas Jazz Show, 16 December 2018
Soprano Katerina Mina, pianist Yiannis Hadjiloizou, saxophonist Giorgos Krasidis & bassist Irinaeos Koulouras, return back to RIALTO Theatre Limassol to perform an unforgettable Christmas Show!
This unique program features some of the most famous Christmas songs by pioneer Jazz composers, amongst others, I'll be home for Christmas, Santa Baby, Blue Christmas, 'Zat you Santa Claus, The Christmas Song, White Christmas, as well as a medley of famous Christmas carols sang in Greek. The program also includes some of the most well known songs by George Gershwin, Cole Porter and Kurt Weill.
Katerina extends her sincere gratitude to her sponsors Eurofast Global and Victoria Sarri Atelier.
To read more about the show and book your tickets, click on the box below!

Guest Artist at Conway Hall Concert, 8 December 2018
Katerina Mina is truly delighted to be the guest artist in this very special piano recital given by emerging young concert pianist Stavros Dritsas, performing and fundraising for the Greek charity Elpida Association of Friends of Children with Cancer.
Katerina will be singing arias by Verdi, Puccini, Wagner, Cilea, Hodel from her newly released debut Album Angel of Fire with the Royal Philharmonic Orchestra. For all information and to purchase tickets please click below.
Scandinavian Sentiments; Orchestral concerts, 24/25/26 October 2018
Katerina performs with Finnish conductor Esa Heikkilä and the Cyprus Symphony Orchestra, music by J. Sibelius (Arioso, op.3), E. Grieg (Solveig's Song) and W. A. Mozart (Chi sà, chi sà, qual sia, K. 582).
Read the full review of Katerina's new CD «Angel of Fire» written by British journalist and composer Robert Hugill for his highly regarded classical music blog Planet Hugill.
Highlights -
Katerina Mina has a bright, forward voice with a good spine to it, and at its best, there is a generousness to her performance and a nice flexibility.
«Io son l'umile ancella» from Cilea's Adriana Lecouvreur is just right, with Mina providing the sort of spine in the voice which was lacking in recent London performances of the opera.
International Composers Festival, 21-23 September
2018
Katerina participates as a soloist at the International Composers Festival at De La Warr Pavilion and Opus Theatre in West Sussex, performing some of the most exciting, melodious and appealing classical music written by living composers attending the Festival from all over the world.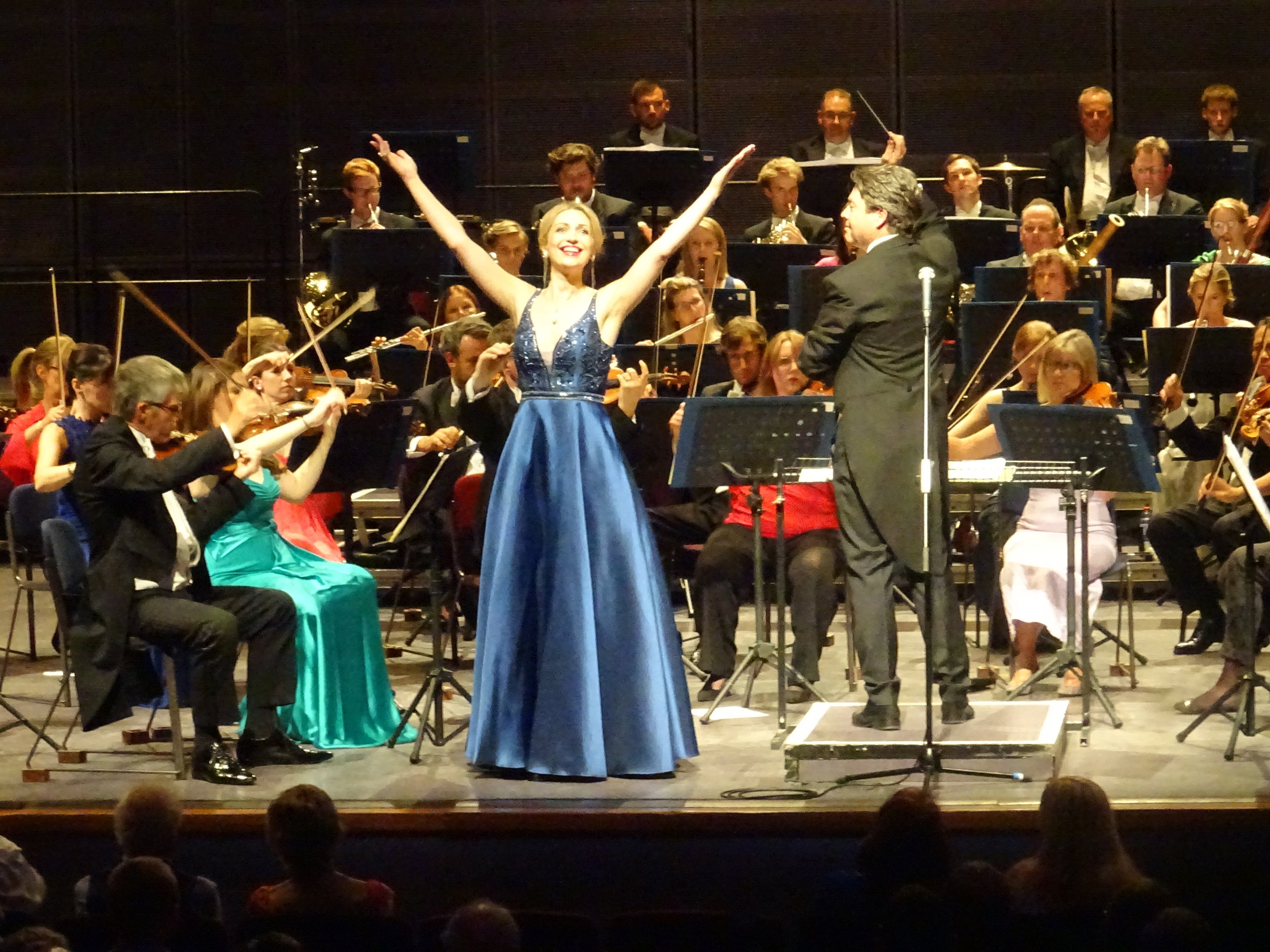 Last Night of the Derngate Proms, 15 July 2018
Katerina performs the "Last Night of the Proms" programme with the Royal Philharmonic Orchestra and conductor Nick Davies, at the Royal & Derngate Theatre in Northampton, one of the major producing venues in the country. Bring your union jack flags and singing voices ready for some of the best of British rousing and exhilarating music!!